Prediksi Inflasi Indonesia Berdasarkan Fuzzy Ann Menggunakan Algoritma Genetika
Anwar Rifa'i

Program Studi Teknik Informatika, Fakultas Teknologi Informasi, Universitas Budi Luhur, Jakarta, Indonesia
Keywords:
Algoritma Genetika, Backpropagation, Inflasi, Neural Network, Prediksi
Abstract
Pemangku kebijakan moneter memiliki ketakutan terhadap inflasi karena dapat memicu naiknya angka kemiskinan dan melonjaknya penggunaan anggaran. Tingkat Inflasi yang tinggi akan mengakibatkan jatuhnya perekonomian suatu negara. Pengambilan kebijakan moneter perlu dikaji secara mendalam un-tuk mencegah hal tersebut. Salah satu upaya yang dapat dilakukan adalah dengan melakukan prediksi inflasi yang akan terjadi. Data tingkat inflasi dari waktu ke waktu merupakan modal untuk melakukan prediksi tingkat inflasi pada waktu mendatang. Suatu prediksi yang baik memiliki nilai error yang kecil. Pada prediksi menggunakan fuzzy artificial neural network (Fuzzy ANN) metode backpropagation, nilai error dapat diperkecil dengan melakukan optimasi pada bobot yang dihasilkan. Pada penelitian ini, op-timasi bobot Fuzzy AAN dilakukan menggunakan algoritma genetika. Model prediksi yang diperoleh se-lanjutnya dievaluasi menggunakan MAPE untuk menentukan keakuratan prediksi. Hasil penelitian menunjukkan bahwa prediksi menggunakan backpropagation neural network dioptimasi menggunakan algoritma genetika (10,33%) lebih baik dibandingkan dengan prediksi menggunakan backpropagation neural network saja (11,67%). Setelah mengetahui bahwa kedua model memiliki hasil prediksi yang cukup baik, keakuratan kedua model dibandingkan menggunakan independent sampe t-test berdasarakan error yang dihasilkan. Hasilnya menjukkan bahwa pada tingkat kepercayaan 95% prediksi menggunakan Fuzzy ANN yang telah dioptimasi menggunakan algoritma genetika (M= 0,69, SD= 0,0421) lebih baik secara signifikan dibandingkan degan fuzzy  ANN saja (M= 0.97, SD= 0,04634 ),  t(22 )= 1.71714, p=0.013.
Downloads
Download data is not yet available.
References
M. Uddin and A. Moniruzzaman, "Inflation, inflation uncertainty and relative price variability in Bangladesh," Eurasian Econ. Rev., no. 6, pp. 389–427, 2016, doi: 10.1007/s40822-016-0055-8.
K. U. Ehigiamusoe, H. H. Lean, and C. C. Lee, "Moderating effect of inflation on the finance–growth nexus: insights from West African countries," Empir. Econ., vol. 57, no. 2, pp. 399–422, 2019, doi: 10.1007/s00181-018-1442-7.
J. H. Powell, "Monetary policy and risk management at a time of low inflation and low unemployment," Bus. Econ., vol. 53, no. 4, pp. 173–183, 2018, doi: 10.1057/s11369-018-0099-8.
L. A. Gil-Alana, A. Mervar, and J. E. Payne, "The stationarity of inflation in Croatia: anti-inflation stabilization program and the change in persistence," Econ. Chang. Restruct., vol. 50, no. 1, pp. 45–58, 2017, doi: 10.1007/s10644-016-9181-2.
N. Videla, "Hamilton–Jacobi approach for quasi-exponential inflation: predictions and constraints after Planck 2015 results," Eur. Phys. J. C, vol. 77, no. 3, 2017, doi: 10.1140/epjc/s10052-017-4711-2.
Y. Wang, Y. Tu, and S. X. Chen, "Improving inflation prediction with the quantity theory," Econ. Lett., vol. 149, pp. 112–115, 2016, doi: 10.1016/j.econlet.2016.10.023.
M. Tule, A. Salisu, and C. Chiemeke, "Improving Nigeria's Inflation Forecast with Oil Price: The Role of Estimators," J. Quant. Econ., 2019, doi: 10.1007/s40953-019-00178-8.
W. P. Gaglianone, J. V. Issler, and S. M. Matos, "Applying a microfounded-forecasting approach to predict Brazilian inflation," Empir. Econ., vol. 53, no. 1, pp. 137–163, 2017, doi: 10.1007/s00181-016-1163-8.
J.-S. Jang, C.-T. Sun, and E. Mizutani, Neuro Fuzzy and Soft Computing. Prentice Hall, 1997.
J. Nayak, G. T. Chandrasekhar, B. Naik, D. Pelusi, and A. Abraham, "Special issue on 'Soft computing techniques: applications and challenges' neural computing and applications," Neural Comput. Appl., vol. 32, no. 12, p. 7585, 2020, doi: 10.1007/s00521-020-04902-x.
K. Szafranek, "Bagged neural networks for forecasting Polish (low) inflation," Int. J. Forecast., vol. 35, no. 3, pp. 1042–1059, 2019, doi: 10.1016/j.ijforecast.2019.04.007.
G. S. M. Thakur, R. Bhattacharyya, and S. S. Mondal, "Artificial Neural Network Based Model for Forecasting of Inflation in India," Fuzzy Inf. Eng., vol. 8, no. 1, pp. 87–100, 2016, doi: 10.1016/j.fiae.2016.03.005.
N. R. Sari, W. F. Mahmudy, and A. P. Wibawa, "Backpropagation on neural network method for inflation rate forecasting in Indonesia," Int. J. Adv. Soft Comput. its Appl., vol. 8, no. 3, pp. 69–87, 2016.
Y. Yolanda, "Analysis of factors affecting inflation and its impact on human development index and poverty in Indonesia," Eur. Res. Stud. J., vol. 20, no. 4, pp. 38–56, 2017, doi: 10.35808/ersj/873.
Suyanto, Artificial Intelligence Searching, Reasoning, Planning, dan Learning Revisi Kedua. Bandung: Informatika Bandung, 2014.
Z. Chen, A. Huang, and X. Qiang, "Improved Neural Networks Based on Genetic Algorithm for Pulse Recognition," Comput. Biol. Chem., vol. 88, no. May, p. 107315, 2020, doi: 10.1016/j.compbiolchem.2020.107315.
X. Wang and B. Wang, "Research on prediction of environmental aerosol and PM2.5 based on artificial neural network," Neural Comput. Appl., vol. 31, no. 12, pp. 8217–8227, Dec. 2019, doi: 10.1007/s00521-018-3861-y.
Y. chen Wu and J. wen Feng, "Development and Application of Artificial Neural Network," Wirel. Pers. Commun., vol. 102, no. 2, pp. 1645–1656, 2018, doi: 10.1007/s11277-017-5224-x.
R. Fuller, Neural Fuzzy Systems. Åbo: Åbo Akademi., 1995.
L.-X. Wang, A Course in Fuzzy Systems and Control. Prentice-Hall, 1997.
N. Borisagar, D. Barad, and P. Raval, "Chronic Kidney Disease Prediction Using Back Propagation Neural Network Algorithm," in Proceedings of International Conference on Communication and Networks, 2017, vol. 508, pp. 295–303, doi: 10.1007/978-981-10-2750-5.
Y. Liu, Y. Chen, S. Wu, G. Peng, and B. Lv, "Composite leading search index: a preprocessing method of internet search data for stock trends prediction," Ann. Oper. Res., vol. 234, no. 1, pp. 77–94, 2015, doi: 10.1007/s10479-014-1779-z.
M. Yassami and P. Ashtari, "Using fuzzy genetic, Artificial Bee Colony (ABC) and simple genetic algorithm for the stiffness optimization of steel frames with semi-rigid connections," KSCE J. Civ. Eng., vol. 19, no. 5, pp. 1366–1374, 2015, doi: 10.1007/s12205-014-0517-z.
J. McKenzie, "Mean absolute percentage error and bias in economic forecasting," Econ. Lett., vol. 113, no. 3, pp. 259–262, 2011, doi: 10.1016/j.econlet.2011.08.010.
S. Hota, Shrivas, "Artificial Neural Network, Decision Tree and Statistical Techniques Applied for Designing and Developing E-mail Classifier," Int. J. Recent Technol. Eng., no. 6, pp. 164–169, 2013.
J. M. Adánez, B. M. Al-Hadithi, and A. Jiménez, "Multidimensional membership functions in T–S fuzzy models for modelling and identification of nonlinear multivariable systems using genetic algorithms," Appl. Soft Comput. J., vol. 75, pp. 607–615, 2019, doi: 10.1016/j.asoc.2018.11.034.
S. Kusumadewi and H. Purnomo, Aplikasi Logika Fuzzy untuk Pendukung Keputusan. Yogyakarta: Graha Ilmu, 2010.
M. A. Mansor and S. Sathasivam, "Activation function comparison in neural-symbolic integration," AIP Conf. Proc., vol. 1750, no. June 2016, 2016, doi: 10.1063/1.4954526.
Y. Liu, L. Xu, and M. Li, "The Parallelization of Back Propagation Neural Network in MapReduce and Spark," Int. J. Parallel Program., vol. 45, no. 4, pp. 760–779, 2017, doi: 10.1007/s10766-016-0401-1.
S. Muniyappan and P. Rajendran, "Contrast Enhancement of Medical Images through Adaptive Genetic Algorithm (AGA) over Genetic Algorithm (GA) and Particle Swarm Optimization (PSO)," Multimed. Tools Appl., vol. 78, no. 6, pp. 6487–6511, 2019, doi: 10.1007/s11042-018-6355-0.
P. Abdolghader, F. Haghighat, and A. Bahloul, "Predicting Fibrous Filter's Efficiency by Two Methods: Artificial Neural Network (ANN) and Integration of Genetic Algorithm and Artificial Neural Network (GAINN)," Aerosol Sci. Eng., vol. 2, no. 4, pp. 197–205, 2018, doi: 10.1007/s41810-018-0036-2.
R. A. Abdula, Advances in Petroleum Engineering and Petroleum Geochemistry, no. January. Springer International Publishing, 2019.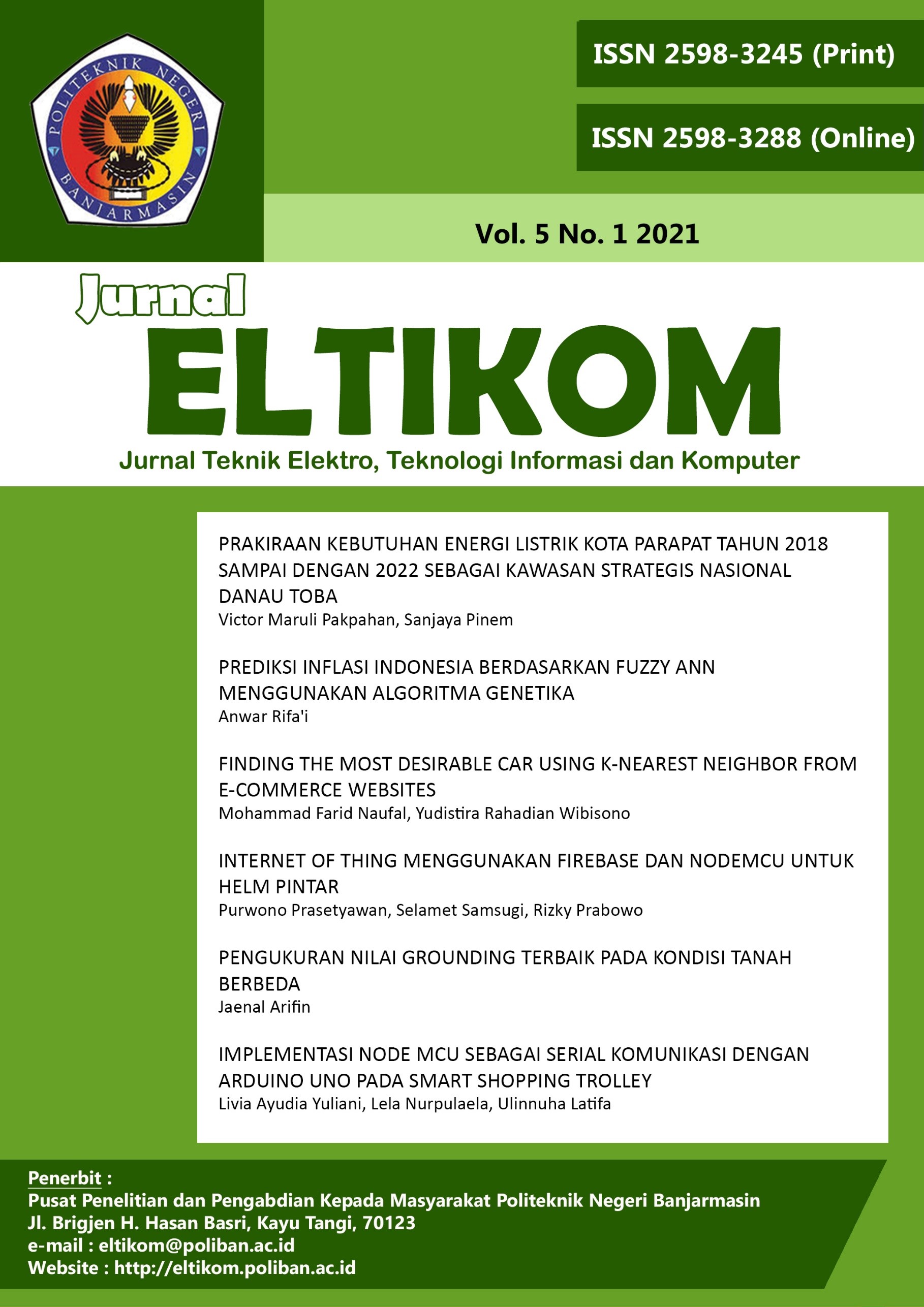 This work is licensed under a Creative Commons Attribution-NoDerivatives 4.0 International License.
Authors retain copyright and grant the journal right of first publication with the work simultaneously licensed under a Creative Commons Attribution License that allows others to share the work with an acknowledgement of the work's authorship and initial publication in this journal.
Authors are able to enter into separate, additional contractual arrangements for the non-exclusive distribution of the journal's published version of the work (e.g., post it to an institutional repository or publish it in a book), with an acknowledgement of its initial publication in this journal.
Authors are permitted and encouraged to post their work online (e.g., in institutional repositories or on their website) prior to and during the submission process, as it can lead to productive exchanges, as well as earlier and greater citation of published work.
Abstract viewed = 83 times PDF downloaded = 91 times