Implementasi Sistem Temu Kembali Informasi Pada Dokumen Mutu
Keywords:
Temu Kembali, Dokumen Mutu, Pencarian dokumen
Abstract
Dalam sistem manajemen mutu pendokumentasian dokumen mutu menjadi salah satu hal utama dalam persyaratan manajemen mutu. Dokumen pada manajemen sistem kendali mutu dapat disimpan dalam bentuk dokumen digital yang dapat diakses oleh pihak yang berkepentingan. Implementasi temu kembali informasi dalam pencarian dokumen mutu pada sistem manajemen mutu diharapkan dapat membantu pengguna dalam menemukan informasi yang relevan dengan kebutuhan dalam waktu singkat untuk jumlah data yang besar. Tujuan dari tulisan ini adalah untuk menyusun koleksi dokumen sebagai bagian perangkat pengujian sistem temu kembali informasi untuk dokumen teks berbahasa Indonesia dalam dokumen mutu dan membangun mesin pencari untuk membantu melakukan pencarian dokumen menggunakan metode Sistem Temu Kembali Informasi. Implementasi sistem temu kembali informasi dengan merancang mesin pencari berbasis web, yang diharapkan dapat membantu melakukan pencarian dokumen dalam koleksi dokumen mutu. Pencarian dapat dilakukan dengan memberikan kata kunci dengan jumlah kunci satu atau lebih atau dapat juga menggabungkan lebih dari satu kata kunci. Penggunaan mesin pencari dapat dimanfaatkan oleh manajemen, tim mutu, dan pegawai untuk mencari dokumen yang sesuai dengan proses yang akan dilaksanakan.
Downloads
Download data is not yet available.
References
Marzuki, Imam, "Temu Kembali Informasi Big Data menggunakan K-Menas dan Clusterring", Smatika Jurnal, Vol 5. No. 2. ISSN. 2087-0256. STMIK Indonesia Malang, 2015.
Mumahhad, dkk, "Sistem Temu Kembali Informasi dalam Dokumen Menggunakan Metode Latent Semantic Indexing", Jurnal Masyarakat Informatika, Volume 3, Nomor 5, ISSN 2083 – 4930, 2012
Rachman, Hastarita Fika, "Sistem Temu Kembali Informasi Menggunakan Model Ruang Vektor dan Inverted Index", Madura, Jurnal SimanteC, Vol 2, No 3 Juni 2012, ISSN 2088-2130, 2012.
Magdalena, 2015, "Pemanfaatan Sarana Temu Kembali Informasi Khususnya Katalog UPT Perpustakaan UNIMA Oleh Mahasiswa", Journal "Acta Diurna" Volume IV. No.1. Tahun 2015.
Very Christioko, Bernadus, "Implementasi Sistem Temu Kembali Informasi Studi Kasus: Dokumen Teks Berbahasa Indonesia (Implementation of Information Retrieval System Case Study: Text Document in Indonesian Language)", Jurnal Transformatika, Vol. 10, No. 1, 2012.
Yahma Wisyani, "Query Ganda Pada Sistem Temu Kembali Informasi Berbasis Jaringan Inferensi", MAKARA, SAINS, VOL. 8, NO. 2, AGUSTUS 2004: 76-84, 2004.
Putung, Carter dkk, "Penerapan Sistem Temu Kembali Informasi Pada Dokumen Skripsi", E-journal Teknik Informatika, Volume 8, No 1 (2016), ISSN : 2301-8364, 2016.
Iyan Mulyana, Andi Chairunnas, Aries Maesya, "Identifikasi Plagiasi Karya Ilmiah berbasis Temu KembaliInformasi Menggunakan Algoritam Edit Distance Melalui Peringkasan Teks Otomatis", Seminar Nasional Teknologi,Bogor, 2015.
Hamzah, Amir, "Temu kembali Informasi Berbasis Kluster Untuk Sistem Temu Kembali Informasi Teks Bahasa Indonesia", Jurnal Teknologi, Vol 2. No. 1, Akprind, Yogyakarta, 2009.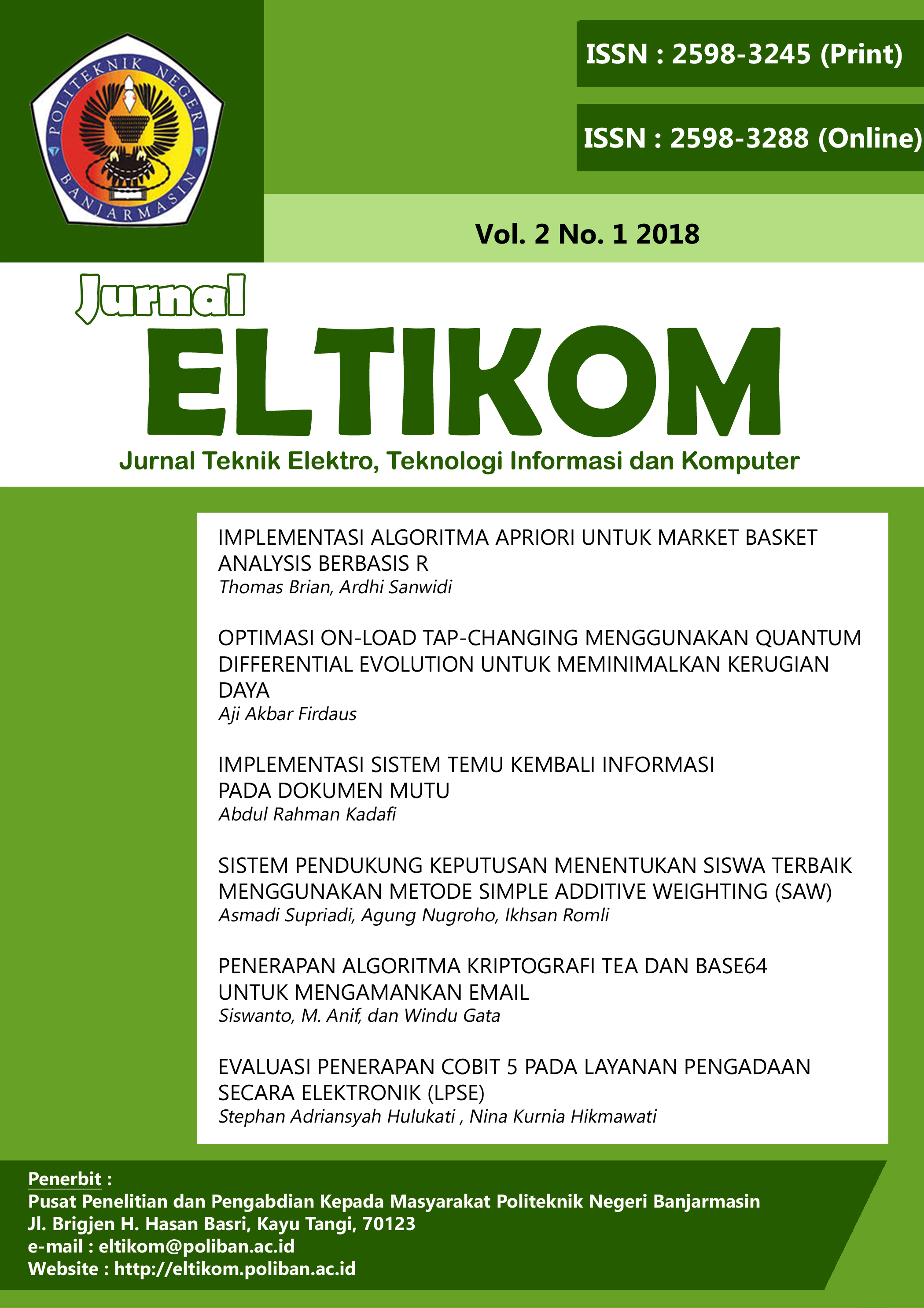 Downloads
How to Cite
Kadafi, A. R. (2018). Implementasi Sistem Temu Kembali Informasi Pada Dokumen Mutu. Jurnal ELTIKOM : Jurnal Teknik Elektro, Teknologi Informasi Dan Komputer, 2(1), 18–25. https://doi.org/10.31961/eltikom.v2i1.38
License
Authors retain copyright and grant the journal right of first publication with the work simultaneously licensed under a Creative Commons Attribution License that allows others to share the work with an acknowledgement of the work's authorship and initial publication in this journal.
Authors are able to enter into separate, additional contractual arrangements for the non-exclusive distribution of the journal's published version of the work (e.g., post it to an institutional repository or publish it in a book), with an acknowledgement of its initial publication in this journal.
Authors are permitted and encouraged to post their work online (e.g., in institutional repositories or on their website) prior to and during the submission process, as it can lead to productive exchanges, as well as earlier and greater citation of published work.