Optimasi On-Load Tap-Changing Menggunakan Quantum Differential Evolution Untuk Meminimalkan Kerugian Daya
Keywords:
tap transformator, quanntum differential evolution, kerugian daya
Abstract
Transformator memiliki peranan penting dalam pengaturan aliran daya pada sistem tenaga listrik. Karena transformator dapat menaikkan dan menurunkan tegangan sesuai dengan permintaan pelanggan. Pengaturan Tegangan ini dapat dilakukan dengan beberapa cara, salah satu cara untuk mengatur tegangan tersebut menggunakan tap transformator. Pada penelitian ini, pengaturan tap transformator dilakukan dengan metode Quantum Differential Evolution (QDE). Pengaturan tap transformator ini bertujuan untuk memperbaiki tegangan dan meminimalkan kerugian daya. Skema ini diujikan pada sistem IEEE 34-bus 20 kV. Dari hasil simulasi didapatkan, Sebelum dilakukan tap transformator kerugian daya didapatkan 21.76 kW dengan tegangan rata-rata adalah 19 kV. Dan Setelah pengaturan tap transformator dilakukan kerugian daya menjadi 19.16 kW dengan tegangan rata-rata adalah 19.93 kV.
Downloads
Download data is not yet available.
References
M. Sedighizadeh, M. Dakhem, M. Sarvi, H.H. Kordkheili, "Optimal Reconfiguration and Capacitor Placement for Power Loss Reduction of Distribution System Using Improved Binary Particle Swarm Optimization," International Journal of Energy and Environmental Engineering, vol. 5, no. 1, hal. 1-11, 2014.
S. Rahimi, M. Marinelli, F. Silvestro, "Evaluation of requirements for volt/var control and optimization function in distribution management systems," IEEE Int. Energy Conf. Exhibition Energycon, Florence, Italy, 2012, hal. 331–336.
I. Leisse, O. Samuelsson, J. Svensson, "Coordinated voltage control in medium and low voltage distribution networks with wind power and photovoltaics," IEEE PowerTech Conf., Grenoble, France, 2013, hal. 1–6.
C. Kumar, M.K. Mishra, "A voltage-controlled DSTATCOM for power-quality improvement," IEEE Trans. Power Deliv., vol. 29, no. 3, hal. 1499–1507, 2014.
A. Einfalt, F. Kupzog, H. Brunner, A. Lugmaier, "Control strategies for smart low voltage grids – the project DG DemoNet – smart LV grid," Integration of Renewables into the Distribution Grid, CIRED 2012 Workshop, Lisbon, Portugal, 2012, hal. 1–4.
M.S. El Moursi, H.H. Zeineldin, J.L. Kirtley, "A dynamic master/slave reactive power-management scheme for smart grids with distributed generation," IEEE Trans. Power Deliv., vol. 29, no. 3, hal. 1157–1167, 2014.
P. Xiao, D.C. Yu, W. Yan, "A Unified Three-Phase Transformer Model for Distribution Load Flow Calculations", IEEE Transactions On Power Systems, vol. 21, no. 1, hal. 153-159, 2006.
J.H. Teng, et. al. "A Network Topology based Three Phase Load Flow for Distribution System", Proc.Nat.Sci.Counc.ROC. part A: physical science and engineering, vol. 24, no.4, hal. 259-264, 2000.
T.H. Chen, N.C. Yang, "Three-Phase Power-Flow by Direct Zbr Method for Unbalanced Radial Distribution Systems," IET Gener.Transm.Distrib., vol. 3, no.10, hal. 903-910, 2009.
X.S. Yang, Nature Inspired. Edisi kedua, Luniver Press, 2010.
L. dos Santos Coelho, "A quantum particle swarm optimizer with chaotic mutation operator," Chaos, Solitions and Fractals, vol. 37, no. 5, hal. 1409-1418, 2008.
U. Eminoglu, M.H. Hocaoglu, "A Voltage Stability Index For Radial Distribution Networks", 42th Int. Universities Power Engineering Conf., hal. 408-413, 2007.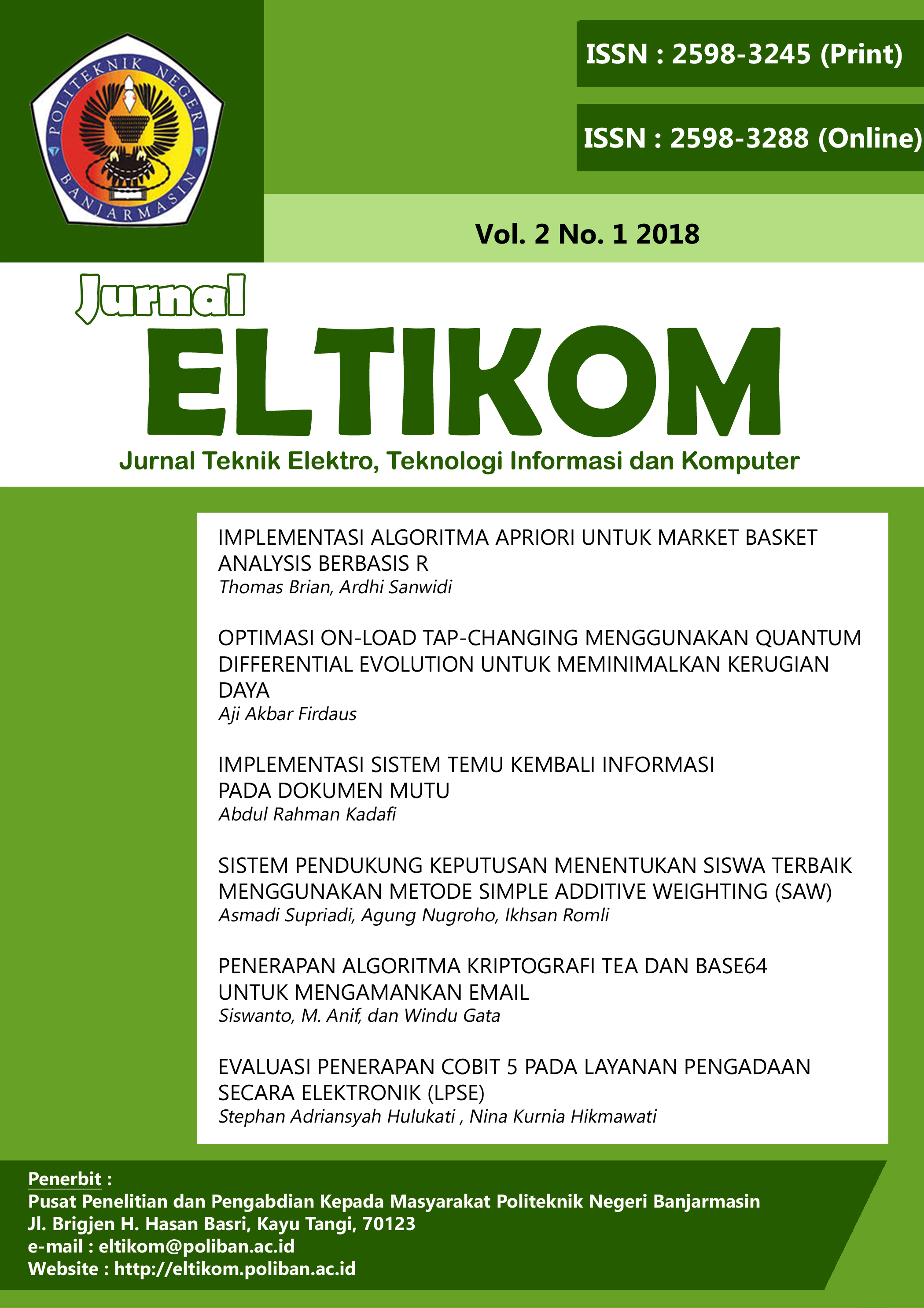 Downloads
How to Cite
Firdaus, A. A. (2018). Optimasi On-Load Tap-Changing Menggunakan Quantum Differential Evolution Untuk Meminimalkan Kerugian Daya. Jurnal ELTIKOM : Jurnal Teknik Elektro, Teknologi Informasi Dan Komputer, 2(1), 9–17. https://doi.org/10.31961/eltikom.v2i1.43
License
Authors retain copyright and grant the journal right of first publication with the work simultaneously licensed under a Creative Commons Attribution License that allows others to share the work with an acknowledgement of the work's authorship and initial publication in this journal.
Authors are able to enter into separate, additional contractual arrangements for the non-exclusive distribution of the journal's published version of the work (e.g., post it to an institutional repository or publish it in a book), with an acknowledgement of its initial publication in this journal.
Authors are permitted and encouraged to post their work online (e.g., in institutional repositories or on their website) prior to and during the submission process, as it can lead to productive exchanges, as well as earlier and greater citation of published work.