Implementasi Algoritma Apriori Untuk Market Basket Analysis Berbasis R
Keywords:
Apriori, Data Mining, Market Basket Analysis, R
Abstract
Semakin banyak transaksi penjualan maka diperlukan suatu sistem untuk menghasilkan informasi yang penting. Inovasi ini akan banyak memecahkan masalah di bidang sales marketing dan inventory, karena produk yang tidak begitu laku jika dipasangkan dengan tepat akan naik nilai penjualannya. Namun mencari asosiasi membutuhkan proses yang rumit karena masalah kombinasi produk yang besar apalagi jika bisnis ritel tersebut memiliki ribuan produk. Apriori adalah algoritma data mining untuk mencari hubungan antar item pada market basket analysis. Dengan menemukan pola transaksi penjualan maka diharapkan nilai bisnis meningkat. Pada proses yang dilakukan pada penelitian ini diimplementasikan menggunakan R dengan function apriori untuk mengolah data. Dimulai dari pembacaan dataset sampai dengan menemukan rekomendasi dari sistem yang sudah dibuat menggunakan function di R. Menentukan nilai support, confidence dan lift berpengaruh untuk menemukan itemset terbaik untuk penjualan selanjutnya. Uji coba yang sudah dilakukan dengan dataset transaksi menunjukkan hasil terbaik pada filter nilai support = 0,1 confidence = 0,8 dan lift > 1.
Downloads
Download data is not yet available.
References
Nursikuwagus, T. Hartono, "Implementasi Algoritma Apriori Untuk Analisis Penjualan Dengan Berbasis Web," Jurnal SIMETRIS, vol. 7, no. 2, hal. 701-706, 2016.
S.F. Rodiyansyah, "Algoritma Apriori untuk Analisis Keranjang Belanja pada Data Transaksi Penjualan," Infotech Journal, vol. 1, no. 2, 2016.
W. Aprianti, K.A. Hafidz, M.R. Rizani, "Implementasi Association Rules dengan Algoritma Apriori pada Dataset Kemiskinan," Limits Journal, vol. 14, no. 2, hal. 57-67, 2017.
A.A. Arafah, I. Mukhlash, "The Application of Fuzzy Association Rule on Co-Movement Analyze of Indonesian Stock Price," Procedia Computer Science, vol. 59, hal. 235-243, 2015.
J. Han, M. Kamber, Data Mining: Concepts and Techniques, Edisi kedua, San Francisco, CA: Elsevier inc., 2006.
R.T. Vulandari, Data Mining Teori dan Aplikasi Rapidminer, Edisi pertama, Yogyakarta: CV. Gava Media, 2017, hal. 65.
Y. Cohen, J.Y. Cohen, Statistics and Data with R: An applied approach through examples. United Kingdom: John Wiley & Sons Ltd., 2008.
J.M. Zelle, Python Programming: An Introduction to Computer Science. Version 1.0rc2. Wartburg College Printing Services, 2002.
Hendri, Cepat Mahir Python. 2003, http://www.IlmuKomputer.com.
H.N. Wulandari, N.W. Rahayu, "Pemanfaatan Algoritma Apriori untuk Perancangan Ulang Tata Letak Barang di Toko Busana," Seminar Nasional Aplikasi Teknologi Informasi (SNATI), vol. 1, no. 1, 2014.
S. Susanto, D. Suryadi, Pengantar Data Mining: Menggali Pengetahuan dari Bongkahan Data. Yogyakarta: Andi Offset, 2010.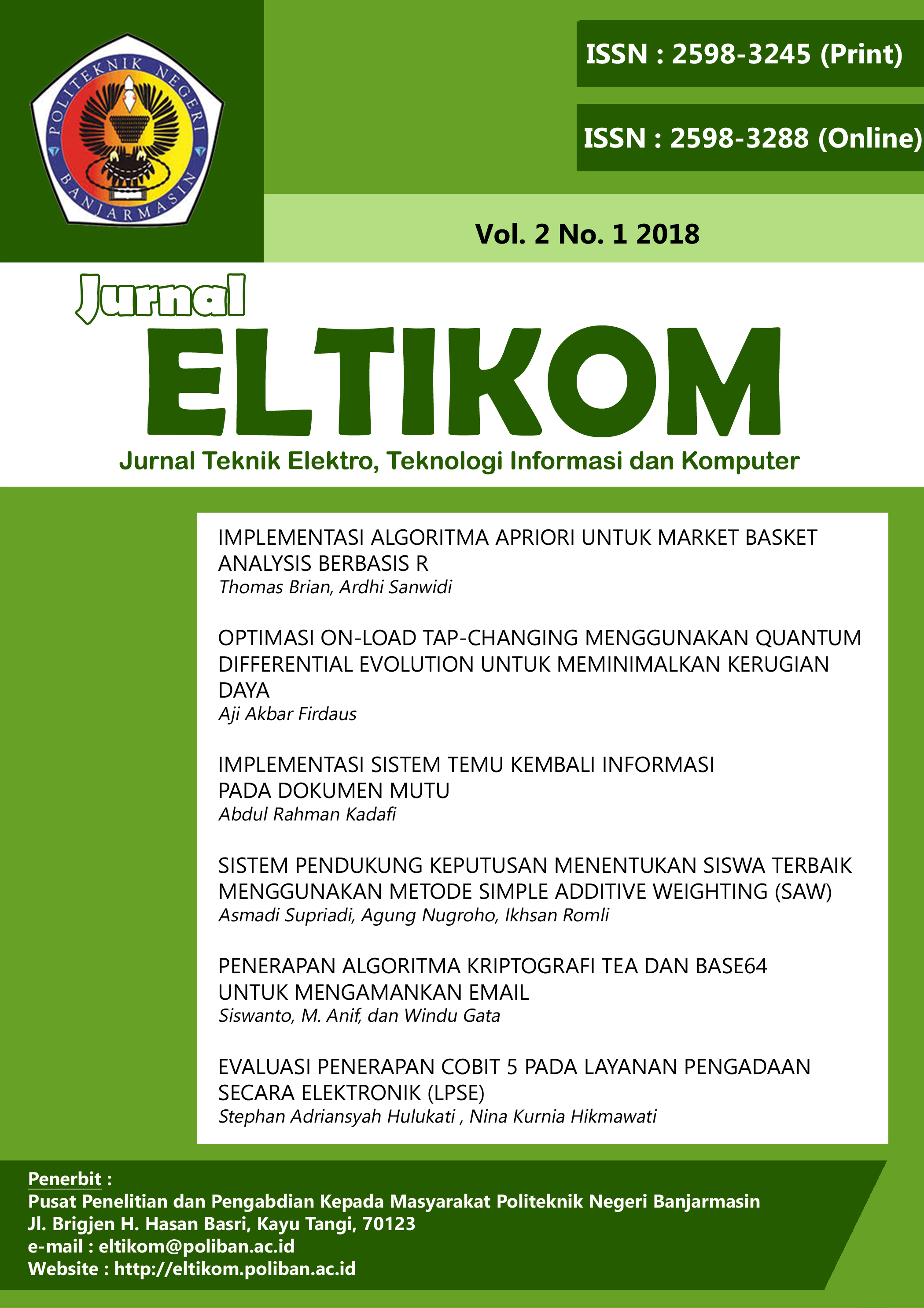 Downloads
How to Cite
[1]
Brian, T. and Sanwidi, A. 2018. Implementasi Algoritma Apriori Untuk Market Basket Analysis Berbasis R. Jurnal ELTIKOM : Jurnal Teknik Elektro, Teknologi Informasi dan Komputer. 2, 1 (Jun. 2018), 1–8. DOI:https://doi.org/10.31961/eltikom.v2i1.40.
License
Authors retain copyright and grant the journal right of first publication with the work simultaneously licensed under a Creative Commons Attribution License that allows others to share the work with an acknowledgement of the work's authorship and initial publication in this journal.
Authors are able to enter into separate, additional contractual arrangements for the non-exclusive distribution of the journal's published version of the work (e.g., post it to an institutional repository or publish it in a book), with an acknowledgement of its initial publication in this journal.
Authors are permitted and encouraged to post their work online (e.g., in institutional repositories or on their website) prior to and during the submission process, as it can lead to productive exchanges, as well as earlier and greater citation of published work.