Sistem Pendukung Keputusan Menentukan Siswa Terbaik Menggunakan Metode Simple Additive Weighting (SAW)
Asmadi Supriadi

Sekolah Tinggi Teknologi Pelita Bangsa

Agung Nugroho

STT Pelita Bangsa

Ikhsan Romli

Sekolah Tinggi Teknologi Pelita Bangsa
Keywords:
MySQL, SAW, Siswa terbaik, UML, Waterfall
Abstract
Sistem Pendukung Keputusan pada dasarnya dibuat untuk memudahkan dalam pengambilan keputusan agar tidak terjadi pengambilan keputusan secara subjektif. Pada RA Raudlatush Shibyan, proses pengambilan keputusan siswa terbaik dibuat menggunakan metode Simple Additive Weighting (SAW) yang terdiri dari beberapa kriteria yaitu : kriteria Afektif, kriteria Kognitif, dan kriteria Psikomotorik. Dalam membangun sistem ini penulis menggunakan metode pengembangan menggunakan metode System Depelopment Life Cycle waterfall atau metode air terjun, dan untuk desain sistem penulis menggunakan Unified Modelling Language (UML). Untuk pembuatan aplikasi penulis menggunakan Bahasa pemograman C# dan database MySQL dan untuk pengujiannya menggunakan metode Black Box Testing.  Hasil dari penelitian ini adalah sebuah aplikasi pendukung keputusan menggunakan metode Simple Additive Weighting (SAW).
Downloads
Download data is not yet available.
References
E. Turban and L. Volonino, Information Technologi for Management. New jersey: Prentice Hall Inc, 2010.
D. U. Daihani, Sistem Pendukung Keputusan. Jakarta: Elex Media Komputindo, 2001.
R. Fauzan, Y. Indrasary, and N. Muthia, "Sistem Pendukung Keputusan Penerimaan Beasiswa Bidik Misi di POLIBAN dengan Metode SAW Berbasis Web," J. Online Inform., vol. 2, no. 2, p. 79, 2018.
G. E. Rinaldhi, "Penerapan Metode Simple Additive Weighting (SAW) untuk Sistem Pendukung Keputusan Penentuan Penerimaan Beasiswa bantuan Siswa Miskin (BSM) pada SMA Negeri 1 Subah Kab. Batang," UDN, 2013.
R. Fauzan, S. Saberan, and M. Ridwan, "A Decision Support System For Selection Of Smartphone Using Simple Additive Weighting (SAW) Method," in Seminar Nasional Riset Terapan, 2017, pp. A15–A24.
S. Kusumadewi, Aplikasi Logika Fuzzy. Yogyakarta: Graha Ilmu, 2010.
R. A.S and M. Shalahudin, Rekayasa Perangkat Lunak Terstruktur dan Berorientasi Objek. Bandung: Informatika, 2014.
R. Fauzan, D. O. Siahaan, and N. F. Ariyani, "Rekomendasi Kasus Penggunaan Berdasarkan Skenario Naratif Menggunakan Teknologi Semantik," pp. 32–37.
B. Harianto, Sistem Manajemen Basis Data. Bandung: Informatika, 2004.
B. Raharjo, Membuat database menggunakan MySQL. Bandung, 2011.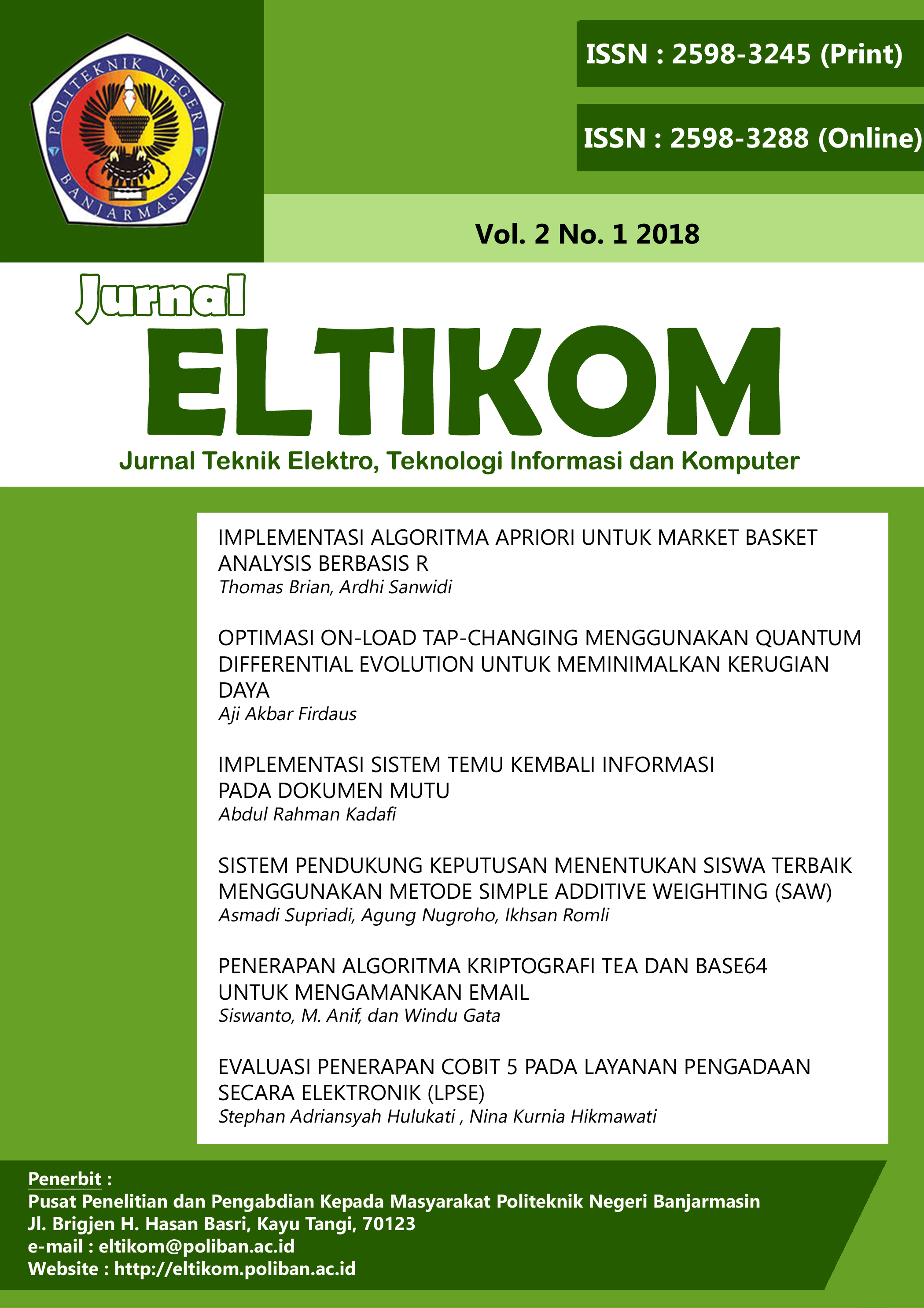 This work is licensed under a Creative Commons Attribution-NoDerivatives 4.0 International License.
Authors retain copyright and grant the journal right of first publication with the work simultaneously licensed under a Creative Commons Attribution License that allows others to share the work with an acknowledgement of the work's authorship and initial publication in this journal.
Authors are able to enter into separate, additional contractual arrangements for the non-exclusive distribution of the journal's published version of the work (e.g., post it to an institutional repository or publish it in a book), with an acknowledgement of its initial publication in this journal.
Authors are permitted and encouraged to post their work online (e.g., in institutional repositories or on their website) prior to and during the submission process, as it can lead to productive exchanges, as well as earlier and greater citation of published work.
Abstract viewed = 1334 times PDF downloaded = 1365 times