Implementasi Node MCU Sebagai Serial Komunikasi dengan Arduino Uno pada Smart Shopping Trolley
Livia Ayudia Yuliani

Fakultas Teknik, Universitas Singaperbangsa Karawang, Karawang, Indonesia

Lela Nurpulaela

Fakultas Teknik, Universitas Singaperbangsa Karawang, Karawang, Indonesia

Ulinnuha Latifa

Fakultas Teknik, Universitas Singaperbangsa Karawang, Karawang, Indonesia
Keywords:
Arduino Uno, Internet of Things, NodeMCU, Quality of Service, Wi-Fi
Abstract
Saat ini, masih banyak pembeli yang menggunakan konsep penjualan offline, sehingga seringkali kita lihat antrian yang panjang di swalayan. Antrian tersebut dikarenakan lamanya seorang kasir untuk melakukan scan harga pada tiap-tiap produk yang terdapat pada keranjang belanjaan. Akan tetapi, masyarakat selalu mengeluh ketika melakukan proses pembelian di supermarket. Masyarakat menya-yangkan proses antrian yang begitu panjang ketika akan melakukan transaksi pembayaran di kasir. Hal ini mengakibatkan lamanya waktu menunggu semakin besar sesuai dengan panjangnya antrian tersebut. Sehingga, untuk dapat mengatasi permasalahan tersebut adalah dengan memanfaatkan internet of things yang bertujuan untuk mempermudah client dalam proses pembelian suatu produk. Perangkat atau kom-ponen internet of things sebagai modul internet adalah NodeMCU V2 AMICA. Metode pengukuran yang digunakan adalah Quality of Service dengan menggunakan bantuan aplikasi Wireshark. Nilai throughput, packet loss, latency, dan jitter yang didapatkan adalah 2229 bit/s, 0% packet, 25,284 detik, 0,05 ms dengan kategori indeks throughput nol (bad) dan indeks empat untuk packet loss, latency, dan jitter.
Downloads
Download data is not yet available.
References
Hambali, "Internet of things," pp. 1–4, 2015.
E. D. Meutia, "Internet of Things – Keamanan dan Privasi," Semin. Nas. dan Expo Tek. Elektro 2015, pp. 85–89, 2015.
P. S. Hasugian, "Perancangan Website Sebagai Media Promosi Dan Informasi," J. Inform. Pelita Nusant., vol. 3, no. 1, pp. 82–86, 2018.
R. F. Arman, F. Aufa, M. Arifin, and M. F. Kamal, "Banley ( Barcode Scanner Trolley ): Keranjang Pintar Pembantu Layanan Pada Kasir," vol. 2, no. 2, pp. 87–96, 2018.
H. Lore, D. Hartama, and S. T. M. Kom, "Analisis Antrian Pada Alfamart Di Jalan Jawa Pematangsiantar," vol. 1, no. 2, pp. 692–696, 2019.
F. Pulansari, R. R. Madya, and R. Madya, "Desain Produk Banley ( Barcode Scanner Trolley ) Terhadap Fleksibilitas Layanan Pem-belian Produk," 2016, pp. 236–244.
U. Gangwal, S. Roy, and J. Bapat, "Smart Shopping Cart for Automated Billing Purpose using Wireless Sensor Networks," vol. 4, no. c, pp. 168–172, 2013.
P. Sahare, A. Gade, and J. Rohankar, "A Review on Automated Billing for Smart Shopping System Using IOT," Rev. Comput. Eng. Stud., vol. 6, no. 1, pp. 1–5, 2019, doi: 10.18280/rces.060101.
A. W. Burange and H. D. Misalkar, "Review of Internet of Things in Development of Smart Cities with Data Management & Privacy," Int. Conf. Adv. Comput. Eng. Appl., pp. 189–195, 2015.
G. H. Cahyono, "Internet Of Things (Sejarah,Teknologi Dan Penerapannya)," Forum Teknol., vol. 06 No, pp. 35–41, 2016.
M. Arif, "Sejarah wifi dan perkembangan wifi," pp. 16–20, 2019.
S. Gurumurthy, "Design Of An Intelligent Shopping Basket Using IOT," vol. 114, no. 10, pp. 141–147, 2017.
H. Yuliansyah, "Uji Kinerja Pengiriman Data Secara Wireless Menggunakan Modul ESP8266 Berbasis Rest Architecture," J. Rekayasa dan Teknol. Elektro, vol. 10, no. 2 (Mei 2016), pp. 68–77, 2016.
U. J. Shobrina, R. Primananda, and R. Maulana, "Analisis Kinerja Pengiriman Data Modul Transceiver NRF24l01 , Xbee dan Wifi ESP8266 Pada Wireless Sensor Network," J. Pengemb. Teknol. Inf. dan Ilmu Komput., vol. 2, no. 4, pp. 1510–1517, 2018.
K. L. A. N. B. Senevirathne, W. M. I. G. D. N. B. Warnasooriya, P. K. H. D. Sandeepani, and N. Vithana, "Smart Shopping Cart Sys-tem," Cent. Eur. Res. J., vol. 5, no. 2, pp. 22–30, 2019.
Hasanul Fahmi, "Analisis Qos (Quality of Service) Pengukuran Delay, Jitter, Packet Lost Dan Throughput Untuk Mendapatkan Kuali-tas Kerja Radio Streaming Yang Baik," J. Teknol. Inf. dan Komun., vol. 7, no. 2, pp. 98–105, 2018.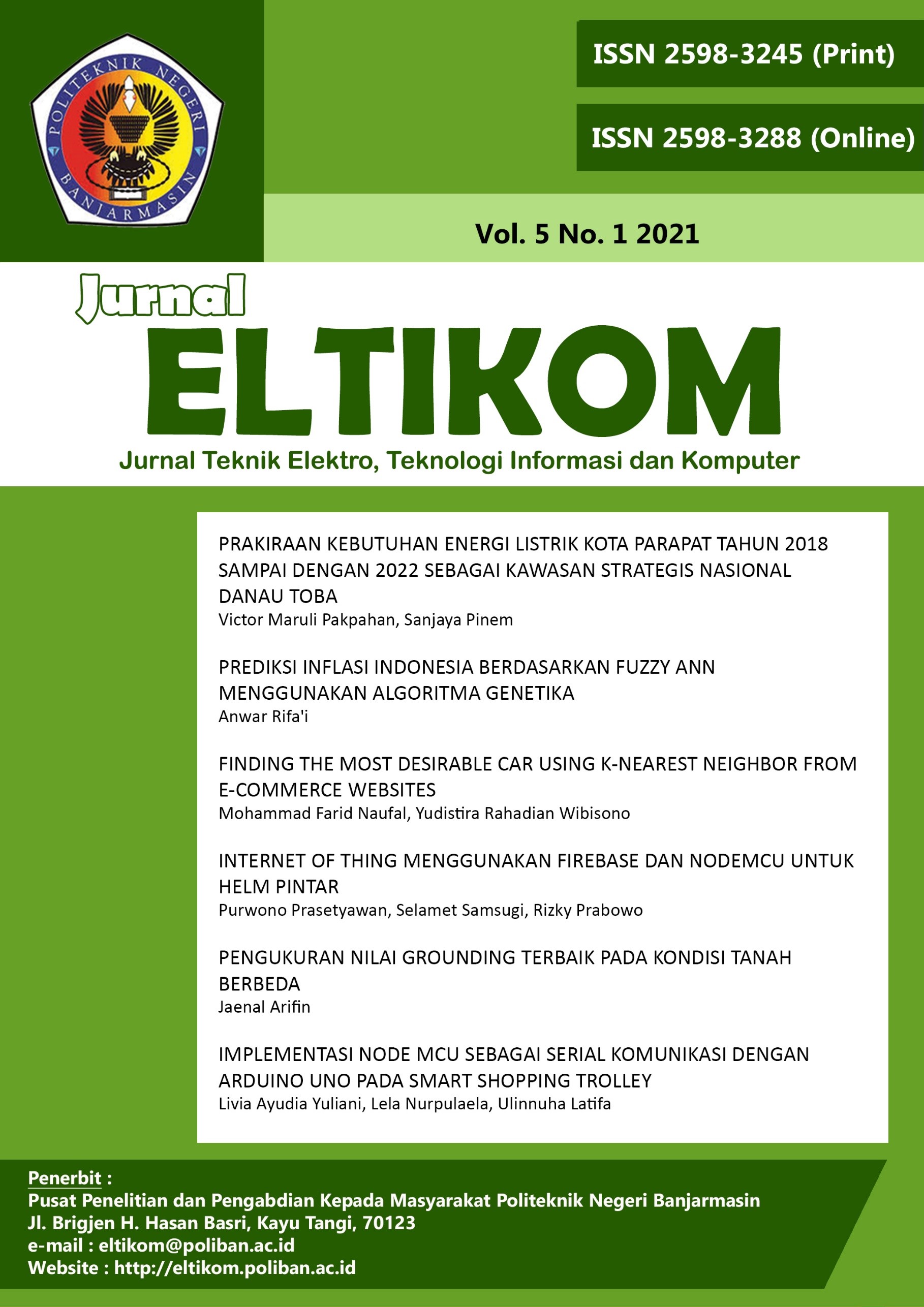 This work is licensed under a Creative Commons Attribution-NoDerivatives 4.0 International License.
Authors retain copyright and grant the journal right of first publication with the work simultaneously licensed under a Creative Commons Attribution License that allows others to share the work with an acknowledgement of the work's authorship and initial publication in this journal.
Authors are able to enter into separate, additional contractual arrangements for the non-exclusive distribution of the journal's published version of the work (e.g., post it to an institutional repository or publish it in a book), with an acknowledgement of its initial publication in this journal.
Authors are permitted and encouraged to post their work online (e.g., in institutional repositories or on their website) prior to and during the submission process, as it can lead to productive exchanges, as well as earlier and greater citation of published work.
Abstract viewed = 108 times PDF downloaded = 131 times