Teknik Konservasi Energi Pada Pompa Submersible Dengan Menggunakan Variable Frequency Drive
Keywords:
conservation, submersible pumps, variable frequency drives
Abstract
Energy conservation is beneficial not only to reduce consumption and the cost of energy consumption, but also to give a better impact on the environment. In this study a simulation model is created which is a reflection of the relationship con-dition between variable frequency drive (VFD), induction motor and centrifugal pump. By creating a simulation model will be able to know the potential savings that will be provided if the variable frequency drive is used.
Downloads
Download data is not yet available.
References
Hanan Nugroho, "Konservasi energi sebagai keharusan yang terlupakan dalam manajemen energi nasional Indonesia: Belajar dari Jepang dan Muangthai," 2005.
Direktorat Konservasi Energi, Direktorat Jenderal Energi Baru Terbarukan dan Konservasi Energi, Kementrian ESDM, "Instrumen kebijakan tentang penghematan energi," Workshop Energy Audit Pilot Project In Industry and Building, Jakarta, 4 Desember 2012.
Jigar N. Mistry, Hetal D. Solanki, and Tejas M. Vala,"Variable frequency drive," International Refereed Research Journal, vol. 2, issue 3, 2012.
Annapurna Birdar and Ravindra G. Patil,"Energy conservation using variable frequency drive,' International Journal of Emerging Trends in Electrical and Electronics (IJETEE), vol. 2, issue 1, April 2013.
Charles M. Burt, Xianshu Piao, Franklin Gaudi, Bryan Busch, and N.F.N. Taufik,"Electric Motor Efficiency under variable frequencies and loads," 2008.
Mr.Priyank Dave, Mr.Kashyap Mokariya, and Mr.Vijay Patel,"Energy conservation in centrifugal pump with vareiable frequency drive including SCADA, PLC, and HMI," International Journal of Innovative Research in Science, Engineering and Technology, vol. 2, issue 5, May 2013.
Thida Win, Nang Sabai and Hnin Nandar Maung,"Analysis of variable frequency three phase induction motor drive," World Academy of Science, Engineering and Technology, 2008.
Michel A. Bernier and Bernard Baurret,"Pumping energy and variable frequency drive," ASHRAE Journal, December 1999.
Keendali PID, 2012. Diakses dari: http://emka.id/special/electro/2012/apa-itu-pengontrol-pid/.
Yusnan Badruzzaman,"Pengasutan konvensional motor induksi tiga fasa rotor sangkar tupai,"Jurnal JTET, vol. 1, no. 1, April 2012.
Zuhal,"Dasar tenaga listrik," Penerbit ITB Bandung, 1991.
Hamad Raad Salih, Ali Abdulwahhab Abdulrazzaq, Basarab, and Guzun,"Dynamic modeling of pump drive system utilizing Simulink/matlab program," International Research Journal of Engineering and Technology (IRJET), vol. 3, issue 1, Jan-2016.
Cekmas Cekdin dan Taufik Barlian,"Rangkaian Listrik," Penerbit Andi Yogyakarta, 2013.
Pedoman Efisiensi Energi untuk Industri,"Pompa dan sistem pemompaan," United Nations Environment Programme (UNEP), 2006.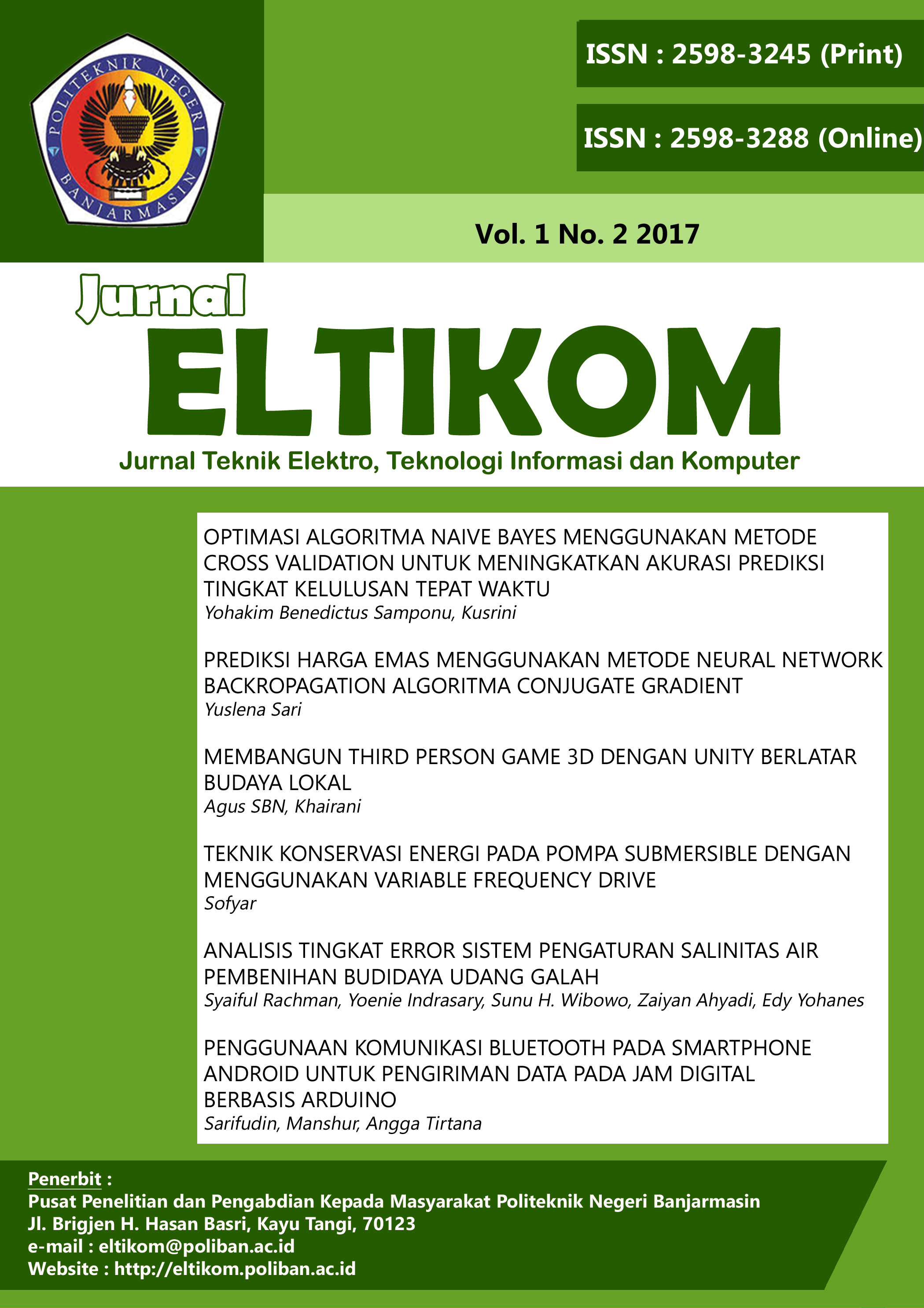 Downloads
How to Cite
[1]
M.Eng, haji sofyar 2018. Teknik Konservasi Energi Pada Pompa Submersible Dengan Menggunakan Variable Frequency Drive. Jurnal ELTIKOM : Jurnal Teknik Elektro, Teknologi Informasi dan Komputer. 1, 2 (Jan. 2018), 84–93. DOI:https://doi.org/10.31961/eltikom.v1i2.25.
License
Authors retain copyright and grant the journal right of first publication with the work simultaneously licensed under a Creative Commons Attribution License that allows others to share the work with an acknowledgement of the work's authorship and initial publication in this journal.
Authors are able to enter into separate, additional contractual arrangements for the non-exclusive distribution of the journal's published version of the work (e.g., post it to an institutional repository or publish it in a book), with an acknowledgement of its initial publication in this journal.
Authors are permitted and encouraged to post their work online (e.g., in institutional repositories or on their website) prior to and during the submission process, as it can lead to productive exchanges, as well as earlier and greater citation of published work.