Membangun Third Person Game 3D Dengan Unity Berlatar Budaya Lokal
Keywords:
unity, thirt person game, bekantan robot, blender
Abstract
Game engine merupakan salah satu faktor yang berperan besar dalam perkembangan teknologi game 2D maupun 3D,baik PC maupun mobile, salah satunya adalah UNITY. Tahapan awal pembuatan game adalah pembuatan model karakter robot berbentuk bekantan dengan latar belakang arena Politeknik Negeri Banjarmasin. Untuk arena, digunakan software 3D Blender yang akan di gabung ke UNITY. Agar hidup, maka musuh akan dipasang sebuah AI (Artificial intelligence) yang akan otomatis menyerang pemain pada jarak tertentu. Coding Unity yang digunakan menggunakan script C# dengan editor Monodevelop. Game yang dibangun berjalan dengan cukup baik pada platform yang diinginkan yaitu PC (Personal Computer). Pada saat game dijalankan pemain akan melihat splash screen Unity dan dilanjutkan dengan tampilan menu utama. Pada menu utama terdapat pilihan Play, Setting, Help, dan Exit. Saat pemain menekan tombol "Play†maka game akan dimulai, menu "Setting†berfungsi untuk melakukan pengaturan dalam game, menu " Help†berfungsi untuk memberikan informasi dalam menjalankan game, dan menu exit untuk keluar dari game. AI yang dibuat berfungsi dengan baik. AI akan menyerang mengejar dan menyerang pemain pada jarak tertentu, dan ketika pemain terkena serangan maka Health bar pemain akan berkurang. Sebaliknya, jika pemain berhasil menembak AI hingga health bar habis, pemain akan menang.
Downloads
Download data is not yet available.
References
Patah, Trisna, "Rancang Bangun Game 3d "Ena Burena" Dengan Algoritma A* Dan Collision Detection Menggunakan Unity 3d Berbasis Desktop Dan Android", Jurnal Informasi Vol VIII no 1/ Feb/2016
Ryan Mahendra Kusuma Putra, "Perancangan Game First Person Shooter 3D 'Zombie Hunter' dengan Menggunakan Metode A* ", J-Intech, vol 3 no 1 2015
Agus, Ida ,Mahendra, "Optimasi Lintasan Game Mekepung 3d Pada Engine Unity3d", Jurnal Ilmu Komputer Udayana, vol 8 no 2 September 2015
Refi, Meisadri. et al. Pembangunan Game First Person Shooter 3D Alien Hunter. Jurnal Ilmiah Komputer dan Informatika (KOMPUTA), Bandung, vol. 2, No.1, ISSN:2089-9033, Maret 2013.
Miftah, Suyatno, Maharani, "Penerapan Metode Finite State Machine Pada Game The Relationship", Jurnal Informatika Mulawarman, Vol 11, no 1 Feb 2016
Ekasari, Yeti, "Merancang Game Petualangan "Binggo" menggunakan Unity 3D Game Engine", Yogyakarta ,Sekolah Tinggi Manajemen Informatika dan Komputer AMIKOM, 2012
Putra, Febriyanto Pratama, Husni Tamrin dan Dedy Ary Prasetya, "Pembuatan Game Animasi 3D Role Playing Game Untuk Pendidikan Budaya dengan Unity dan Bahasa Pemograman C#", Surakarta, Universitas Muhammadiyah, 2012.
Roedavan, Rickman, "UNITY Tutorial Game Engine", Bandung, Informatika, 2014.
Unity, "Unity Answer", http://answer.unity3d.com. Tanggal akses 3 Februari 2016.
Unity, "Unity Manual", http://docs.unity3d.com/Manual/index.html. Tanggal akses 5 Februari 2016.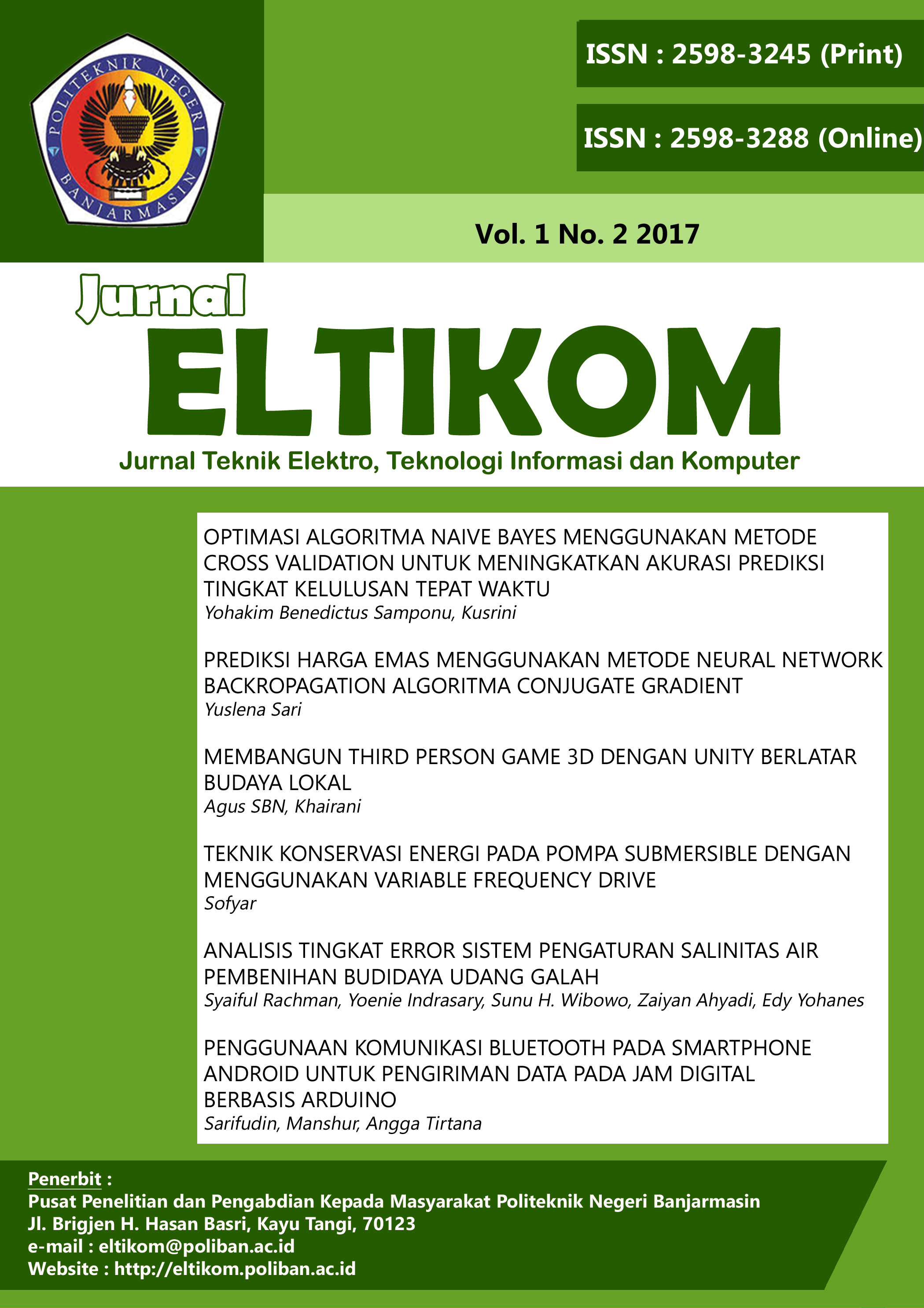 Downloads
How to Cite
SETIYO BUDI NUGROHO, A., & Khairani, K. (2018). Membangun Third Person Game 3D Dengan Unity Berlatar Budaya Lokal. Jurnal ELTIKOM : Jurnal Teknik Elektro, Teknologi Informasi Dan Komputer, 1(2), 71–83. https://doi.org/10.31961/eltikom.v1i2.24
License
Authors retain copyright and grant the journal right of first publication with the work simultaneously licensed under a Creative Commons Attribution License that allows others to share the work with an acknowledgement of the work's authorship and initial publication in this journal.
Authors are able to enter into separate, additional contractual arrangements for the non-exclusive distribution of the journal's published version of the work (e.g., post it to an institutional repository or publish it in a book), with an acknowledgement of its initial publication in this journal.
Authors are permitted and encouraged to post their work online (e.g., in institutional repositories or on their website) prior to and during the submission process, as it can lead to productive exchanges, as well as earlier and greater citation of published work.