Penggunaan Komunikasi Bluetooth Pada Smartphone Android Untuk Pengiriman Data Pada Jam Digital Berbasis Arduino
Sarifudin Sarifudin

electronic enginering

Manshur Manshur

Angga Tirtana
Keywords:
dot matrix, jam digital, arduino, smart handphone android
Abstract
The schedule of prayer is very important akan ada.Masa Today many in the mosque as well as in homes that usually have a calendar and the viewer time of eternal prayer, but it looks so small that it can not be seen from a great distance. This prayer timepiece uses a display display dot matrix P4, displaying the date, digital clock as well as the 5th time of the prayer. So that prayer times can be changed in real time according to time and day changes, and can be seen from a great distance and can be used to maximize the time available. This research produces a digital clock time system that uses dot-matrix as display, RTC as real time clock, bluetooth as sender of data from smart mobile device android, and buzzer as alarm. So that the system formed the digital clock time of this prayer. Based on design, implementation and testing, the arduino-based digital time-shaped design tool can be used for digital clocks and bookmarks and prayer time reminders.
Downloads
Download data is not yet available.
References
(1) Kadir , Abdul. ,"Panduan Praktis Mempelajari Aplikasi Mikrokontroler Dan Pemogramannya Menggunakan Arduino,".,Andi, Yogyakarta, 2012.
(2) Mulyadi.." Android App Inventor: Membuat Aplikasi Android tanpa Kode Program. "Yogyakarta: Multimedia Center. 2011
(3) Arkanuddin, Mutoha., "Menentukan Waktu Shalat", http://www.rukyatulhilal.org/waktu shalat/, 2009.
(4) Perkasa, Brian Jaya,.". Tutorial Dasar Komunikasi Bluetooth dengan Arduino untuk ON/OFF_LED. " http://www.bjp.web.id/2016/04/tutorial-dasar-komunikasi-bluetooth.html. Diakses pada 21 Juli 2017.
(5) KEMENAG, Badan Hisab dan Rukyat.Jadwal Sholat Abadi untuk Banjarmasin. http://icukuk.blogspot.com/2014/03/jadwal-shalat-sepanjang-masa.html.Diakses pada 21 Juli 2017
(6) Ary Zona, Ratna Aisuwarya, M.Hafiz.. "Perancangan Display LED Dot Matrix Menggunakan.Mikrokontroler.ATmega32".
Universitas Andalas, Padang., 2013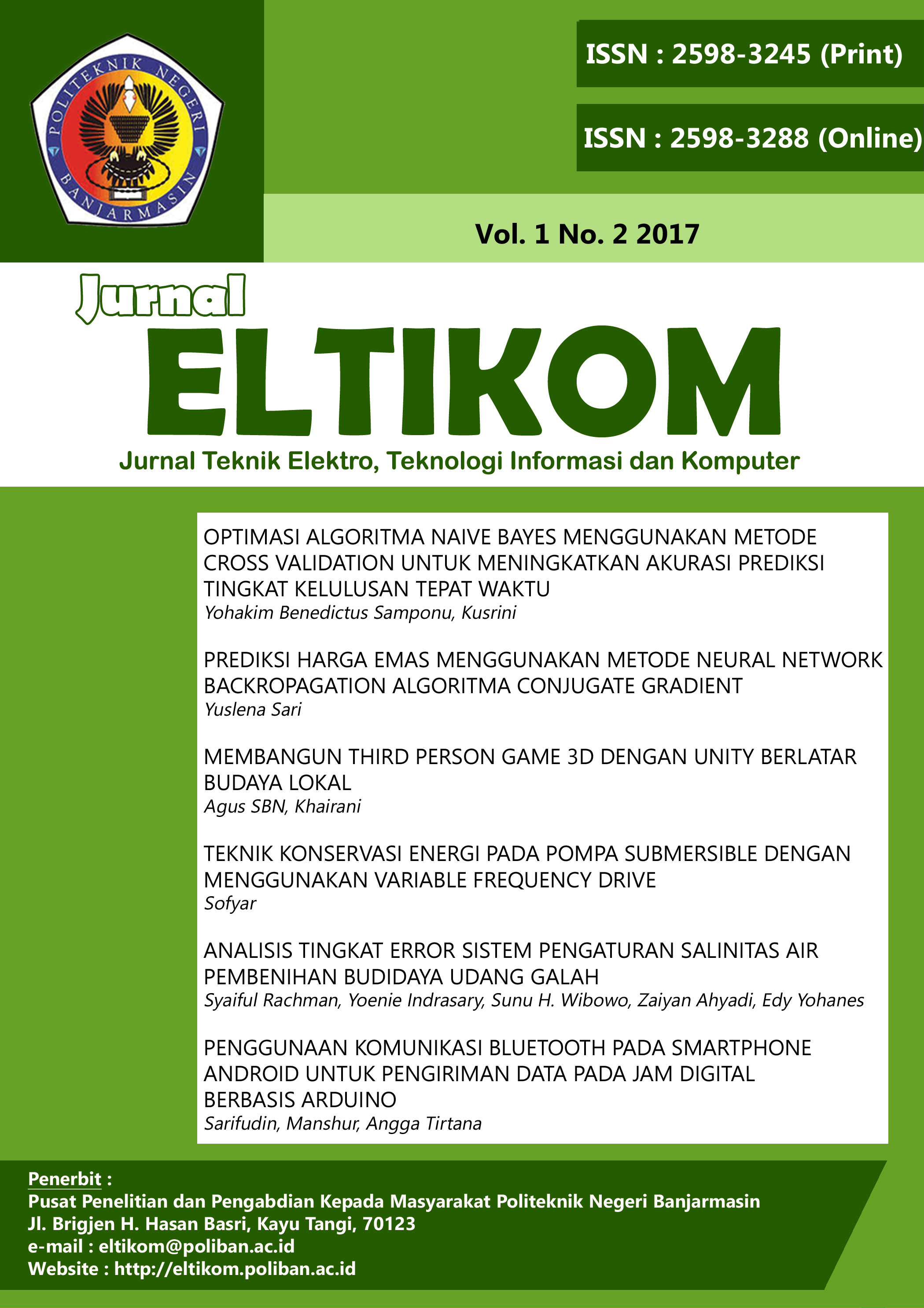 This work is licensed under a Creative Commons Attribution-NoDerivatives 4.0 International License.
Authors retain copyright and grant the journal right of first publication with the work simultaneously licensed under a Creative Commons Attribution License that allows others to share the work with an acknowledgement of the work's authorship and initial publication in this journal.
Authors are able to enter into separate, additional contractual arrangements for the non-exclusive distribution of the journal's published version of the work (e.g., post it to an institutional repository or publish it in a book), with an acknowledgement of its initial publication in this journal.
Authors are permitted and encouraged to post their work online (e.g., in institutional repositories or on their website) prior to and during the submission process, as it can lead to productive exchanges, as well as earlier and greater citation of published work.
Abstract viewed = 607 times PDF downloaded = 1366 times