Layanan Cloud Computing untuk Mendukung Kinerja Administrasi Database Tanpa Menggunakan Perintah SQL
Hero Wintolo

Sekolah Tinggi Teknologi Adisutjipto, Yogyakarta, Indonesia

Nurcahyani Dewi Retnowati

Sekolah Tinggi Teknologi Adisutjipto, Yogyakarta, Indonesia

Andi Ahmad Iswar Ibrahim

Sekolah Tinggi Teknologi Adisutjipto, Yogyakarta, Indonesia
Keywords:
Cloud computing, Database SQL, DML
Abstract
Penelitian ini memiliki tujuan untuk menyediakan layanan dalam  bentuk aplikasi untuk melakukan kegiatan Database Manipulation Language (DML) yang  diterapkan dalam bentuk cloud computing . Sebanyak tiga buah computer dimanfaatkan untuk memberikan layanan pemrosesan dan penyimpanan database tanpa menggunakan perintah yang ada pada Structure Query Language (SQL) dan satu buah computer digunakan sebagai server yang melayani pengguna untuk melakukan kegiatan DML tanpa menggunakan perintah SQL .  Dengan menggunakan teknologi cloud  pengelolaan database berbasis SQL yang biasanya menggunakan perintah berbasis command line dapat dilakukan dengan cara yang lebih mudah. Layanan yang diberikan oleh cloud untuk mengelola database berbasis SQL khususnya fungsi DML. Hasil dari implementasi layanan pada jaringan internet, Wireless lan, dan LAN dapat berjalan dengan baik dengan kasus pengujian fungsi pada ketiga media jaringan tersebut. Dengan demikian para pengguna yang sama sekali tidak mengerti bahasa SQL dapat menggunakan layanan ini dengan mudah untuk mengolah database SQL secara mandiri.
Downloads
Download data is not yet available.
References
S. Sukirman, M. M. R. Putra, and A. J. Kusumawati, "Optimalisasi Penggunaan Aplikasi Cloud computing Sebagai Sarana Pengelolaan Kuesioner Bagi Guru Muhammadiyah Tanon," Warta LPM, vol. 22, no. 2, pp. 120–128, 2019.
A. Junaidi, R. Wardhani, and M. Masruroh, "Membangun Cloud computing Untuk Managemen Data Pada Universitas Islam Lamongan," Jurnal Teknika, vol. 10, no. 1, p. 975, Feb. 2018.
T. Prasandy and W. Adhiwibowo, "Virtualisasi Server Sederhana Menggunakan Proxmox," Jurnal Transformatika, vol. 12, no. 2, p. 37, 2015.
J. Jamaluddin, "Pemanfaatan Fasilitas Cloud computing Untuk Pembuatan Dokumen Dan Presentasi," 2018.
L. Christiani, "Peluang dan Tantangan Penerapan Cloud computing (Komputasi Awan) Sebagai Solusi Automasi Kerjasama Antar Perpustakaan," Anuva, vol. 2, no. 1, p. 43, Jul. 2018.
M. Agarina, S. Sutedi, and A. S. Karim, "Desain Sistem Informasi Layanan Keuangan Sekolah Berbasis Cloud computing ," SIMADA (Jurnal Sistem Informasi & Manajemen Basis Data), vol. 1, no. 1, p. 51, Sep. 2018.
R. Kurniawan and F. Arkan, "Rancang Bangun Sistem Borang Akreditasi Program Studi Teknik Elektro Universitas Bangka Belitung," Jurnal Ecotipe (Electronic, Control, Telecommunication, Information, and Power Engineering), vol. 3, no. 2, pp. 31–39, 2016.
H. Wintolo, A. Kusumaningrum, and H. W. Kusuma, "Use of Automation Codecs Streaming Video Applications Based on Cloud computing ," TELKOMNIKA (Telecommunication Computing Electronics and Control), vol. 15, no. 3, p. 1409, Jan. 2017.
M. Jamil, A. Khairan, and A. Fuad, "Implementasi Aplikasi Telemedicine Berbasis Jejaring Sosial dengan Pemanfaatan Teknologi Cloud computing ," Jurnal Edukasi dan Penelitian Informatika (JEPIN), vol. 1, no. 1, 2015.
I. Santiko, R. Rosidi, and S. A. Wibawa, "Pemanfaatan Private Cloud Storage Sebagai Media Penyimpanan Data E-Learning Pada Lembaga Pendidikan," Jurnal Teknik Informatika, vol. 10, no. 2, 2017.
J. Sharif, "Membangun Private Cloud computing dan Analisa Terhadap Serangan DoS, Study Kasus SMKN 6 Jakarta," Jurnal Telekomunikasi dan Komputer, vol. 6, no. 3, p. 270, 2017.
M. B. Setyawan, "Analisis Faktor-Faktor Yang Mempengaruhi Adopsi Cloud computing Di Rumah Sakit Muhammadiyah," Simetris : Jurnal Teknik Mesin, Elektro dan Ilmu Komputer, vol. 6, no. 2, p. 197, Jan. 2015.
K. Grolinger, W. A. Higashino, A. Tiwari, and M. A. Capretz, "Data management in cloud environments: NoSQL and NewSQL data stores," Journal of Cloud computing : Advances, Systems and Applications, vol. 2, no. 1, p. 22, 2013.
Y. Indrianingsih, H. Wintolo, and I. K. Sari, "Penerapan Grid Computing Untuk Mengkompilasi Program Berbahasa C/C++ ," Conference SENATIK STT Adisutjipto Yogyakarta, vol. 1, p. 67, Mar. 2013.
Y. L. Oktavianus, "Membangun Sistem Cloud computing Dengan Implementasi Load Balancing dan Pengujian Algoritma Penjadwalan Linux Virtual Server Pada FTP Server," Jurnal Nasional Teknik Elektro, vol. 2, no. 1, pp. 25–30, Jan. 2013.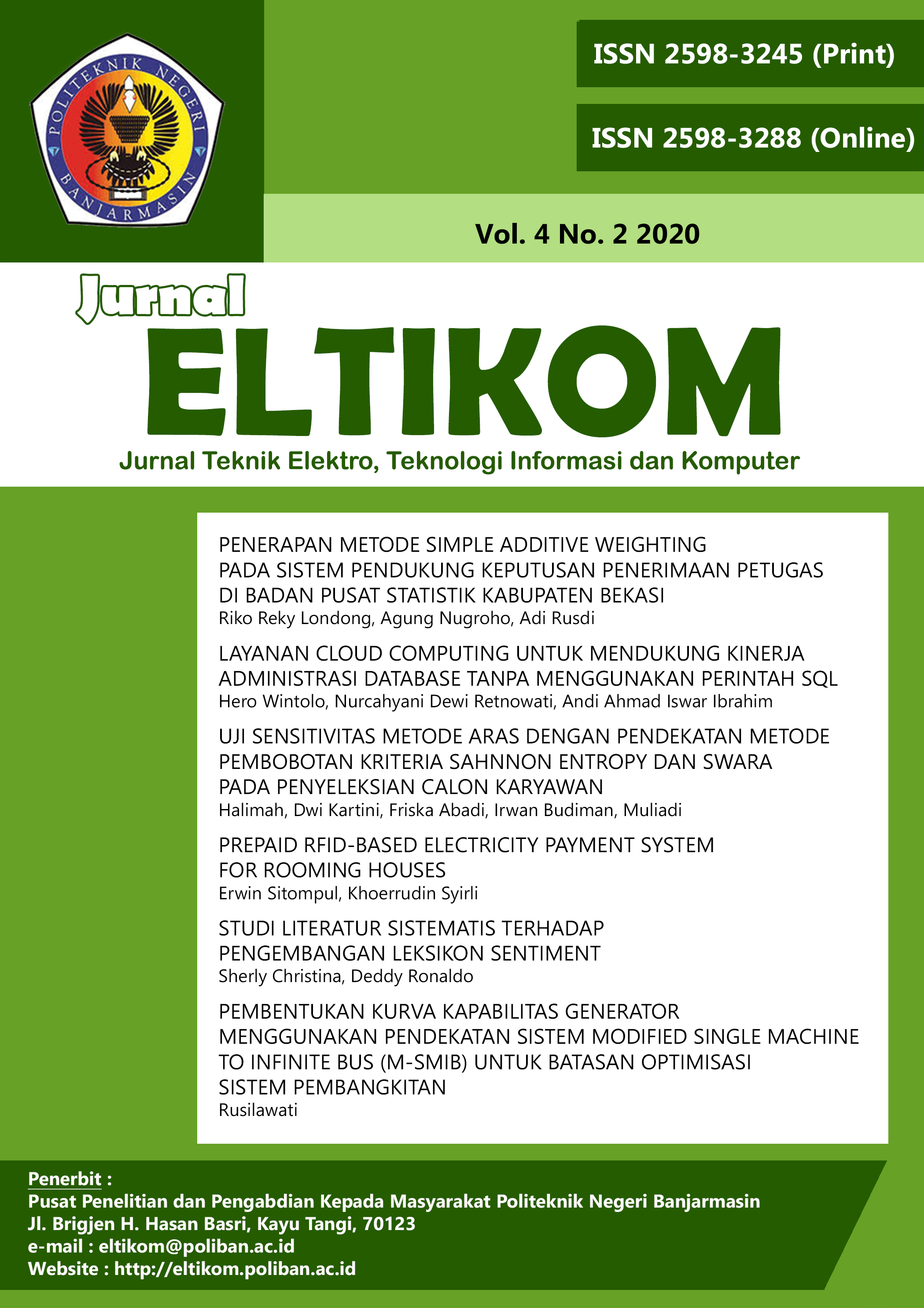 This work is licensed under a Creative Commons Attribution-NoDerivatives 4.0 International License.
Authors retain copyright and grant the journal right of first publication with the work simultaneously licensed under a Creative Commons Attribution License that allows others to share the work with an acknowledgement of the work's authorship and initial publication in this journal.
Authors are able to enter into separate, additional contractual arrangements for the non-exclusive distribution of the journal's published version of the work (e.g., post it to an institutional repository or publish it in a book), with an acknowledgement of its initial publication in this journal.
Authors are permitted and encouraged to post their work online (e.g., in institutional repositories or on their website) prior to and during the submission process, as it can lead to productive exchanges, as well as earlier and greater citation of published work.
Abstract viewed = 170 times PDF downloaded = 279 times