Hand Gesture Recognition Sebagai Pengganti Mouse Komputer Menggunakan Kamera
Keywords:
camera mouse, convexhull algorithm, hand gesture recognition
Abstract
Akhir-akhir ini perkembangan teknologi semakin pesat, metode interaksi dan komunikasi antara pengguna dengan komputer adalah salah satu tuntutan perkembangan teknologi. Berbagai macam pembaharuan teknologi mengusahakan untuk meminimalisir berbagai macam perangkat menjadi satu agar lebih mudah digunakan. User lebih membutuhkan peralatan komunikasi yang bersifat alami karena tidak membutuhkan kontak langsung dengan peralatan input. Misalnya dengan gerakan dari tubuh manusia didepan kamera komputer sudah bisa menginterpretasikan. Untuk mengatasi masalah tersebut maka dilakukan suatu penelitian tentang deteksi isyarat tangan. Inputan berupa isyarat dan gerakan tangan didepan kamera dapat memberikan aksi pergerakan pada mouse yang diistilahkan dengan kamera mouse. Metode yang digunakan adalah convexhull algorithm. Melalui convexhull algorithm bisa didapatkan jumlah jari tangan yang kemudian dapat dijadikan acuan dalam pengerjaan aksi mouse. Sebenarnya sudah banyak penelitian tentang camera mouse, tetapi implementasinya masih banyak yang bergantung dengan peralatan tambahan. Penelitian ini mengembangkan penelitian yang sudah ada, yaitu hand gesture recognition dengan implemen-tasi pergerakan mouse dari video secara realtime. Dengan hand gesture recognition dan menggunakan metode convexhull algorithm pengenalan tangan akan lebih mudah hanya dengan menggunakan kamera, hanya dengan hitungan detik aksi mouse pada komputer dapat berjalan dengan baik yaitu dengan tingkat akurasi sebesar 68 % dari 75 kali percobaan
Downloads
Download data is not yet available.
References
Abhik Banarjee, "Mouse Control Using a Web Camera Based on Colour Detection," International Journal of Computer Trends and Technology (IJCTT), pp. 15-20, 2014.
Nyoman Hermawan, "Purwarupa Mouse Keypad Nirkabel Akselerometer Berbasis Mikrokontroler," IJEIS, 2012.
Vivek Veeriah J, "Robust Hand Gesture Recognition Algorithm for Simple Mouse Control," International Journal of Computer and Communication Engineering, pp. 219-221, 2013.
Jishmi Jos Choondal, "Design and Implementation of a Natural User Interface Using Hand Gesture Recognition Method," International Journal of Innovative Technology and Exploring Engineering (IJITEE), pp. 249-254, 2013.
G. R. S. Murthy, "A Review of Vision Baed Gestures Recognition," International Journal of INformation Technology and Knowledge Management, pp. 405-410, 2009.
Mariam-Avram VINCZE, "Hand Gesture Mouse Cursor Control," Scientific Bulletin of The Petru Maior "University of Tirgu Mures, pp. 46-49, 2014.
Rafiqul Zaman Khan, "Hand Gesture Recognition: A Literature Review," International Journal of Artificial Intelligence & Applications (IJAIA), pp. 161-174, 2012.
Gary and Adrian Kaehler Bradski, "Learning OpenCV," O'Reilly Media, Inc., 2008.
Rudy Hartanto, "Perancangan Awal Antarmuka Gesture Tangan Berbasis Visual," JNTETI, pp. 36-43, 2012.
Menatoallah M Youssef, "Hull Convexity Defect Features for Human Action Recognition," Dissertation, The School of Engineering of the University of Dayton, 2011.
Intel, "Open Source Computer Vision Library," Intel Corporation, 2000-2001.
Hojoon Park, "A Method for Controlling Mouse Movement Using Real-Time Camera," 2010.
C. A. Poynton. (1997) Frequently Asked Questions about Color. [Online]. http://www.poynton.com/PDFs/ColorFAQ.pdf
M. R. Tabassum, "Comparative Study of Statistical Skin Detection Algorithms for Sub-Continental Human Images," Information Technology Journal, pp. 811-817, 2010.
Khamar Basha Shaik, "Comparative Study of Skin Color Detection and Segmentation in HSV and YCbCr Color Space," in Procedia Computer Science, 2015.
Thomas Royal, A High Level Description of Two Fingertip Tracking Techniques: k-curvature and convexity defects., 2016.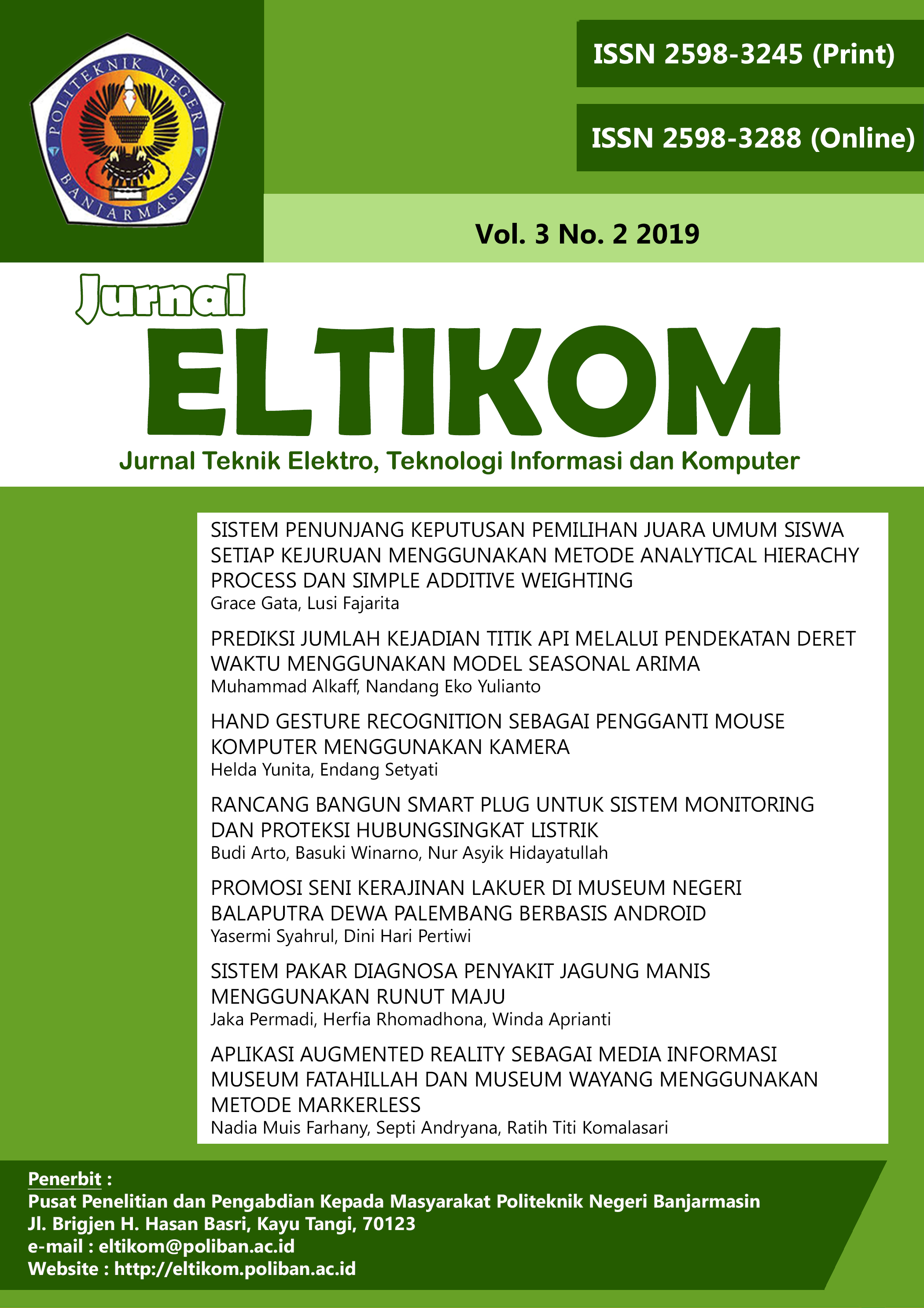 Downloads
How to Cite
[1]
Yunita, H. and Setyati, E. 2019. Hand Gesture Recognition Sebagai Pengganti Mouse Komputer Menggunakan Kamera. Jurnal ELTIKOM : Jurnal Teknik Elektro, Teknologi Informasi dan Komputer. 3, 2 (Oct. 2019), 64–76. DOI:https://doi.org/10.31961/eltikom.v3i2.114.
License
Authors retain copyright and grant the journal right of first publication with the work simultaneously licensed under a Creative Commons Attribution License that allows others to share the work with an acknowledgement of the work's authorship and initial publication in this journal.
Authors are able to enter into separate, additional contractual arrangements for the non-exclusive distribution of the journal's published version of the work (e.g., post it to an institutional repository or publish it in a book), with an acknowledgement of its initial publication in this journal.
Authors are permitted and encouraged to post their work online (e.g., in institutional repositories or on their website) prior to and during the submission process, as it can lead to productive exchanges, as well as earlier and greater citation of published work.